Ice Bomber I
Vital statistics
File:Stars Bronze 1.png
Rarity
Element

Ice

Type
Defense
Zone
Jingo
Levels
lowest - highest
Health
lowest - highest
Attack
lowest - highest
Speed
Unknown
Build cost
Unknown
Total investment
Unknown
Acquisition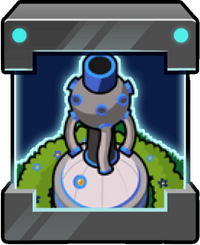 You must have entered Jingo before you can build this Building.
You can obtain the Blueprints for this building through the following means:
Defeat ________ (Place Name)
Defeat ________ (Boss Name)
Defeat a Rival that has this building in their city
Purchase in the Store

Name of Bundle
Name of Bundle
Attributes
| Lvl | Health | Strength | Speed | Cost | Sale Price |
| --- | --- | --- | --- | --- | --- |
| | | | | | |
| | | | | | |
Add more rows to this table by right-clicking on the table and then select row/insert row below (or above, depending on which row you selected). Do not do this on the Header Row, as that will create a 2nd header row rather than a data row.
Ad blocker interference detected!
Wikia is a free-to-use site that makes money from advertising. We have a modified experience for viewers using ad blockers

Wikia is not accessible if you've made further modifications. Remove the custom ad blocker rule(s) and the page will load as expected.