Thank you for visiting the Wiki and for taking the time to help contribute to it. The more people that contribute the better this Wiki will be.
Create an Account
Before you do anything else, you will need to Create a Wikia Account. This will give you a Username that will follow you across all Wikia Wikis, so make sure that it's something that is relevant to you, regardless of which game you're playing.
How You Can Help
There are lots of ways in which you can help. There is a list of specific items that need doing listed on the What's needed page. But as a general rule, here are some examples of what you can do to help:

The basic rule of thumb is:
If you see something missing, add it.
If you see something wrong, correct it.
How to Make Edits
If you see something that is missing from a page, make sure that you're logged in and then click on the button that says "edit". This will take you to Wikia's "visual editor" for htat page. This is a What You See Is What You Get (WYSIWYG) editor.
There will be a row of buttons to change font into Bold, Italics, or to create a link to another page.
There is also a drop down menu if you want your text to be a Heading rather than in Paragraph format.
Should you wish to make a Bullet List or a Numbered List, click on the "Insert" drop down menu and you can select whichever one you want.
Advanced editors that are experienced with Wiki Code may wish to edit in Source Mode. You can do this by clikcing on the drop down menu with three lines on it (next to Cancel/Publish), and then select "Source Mode". You can now use Wiki Markups to code your page as you wish.
Should you wish to learn more about Wiki Markups, Razorgirl has created a Tutorial on Wiki Code 101.
Better to Do Something Badly, Than to Do Nothing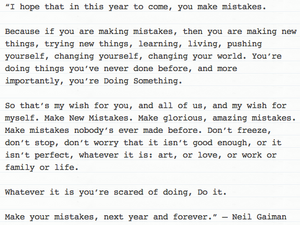 Lastly, I have no issue with someone that knows nothing about Wiki Coding, tries to contribute and gets it wrong - especially when these are the sort of people that usually contact an Admin to ask for help because they screwed up. I and the other Admins are here to help people. It's part of the job description for being an Admin.  ; )
For me, it is much more preferable than someone that doesn't contribute because they're scared of screwing up.
But let me share with you some words that someone shared with me, that will hopefully resonate with people and give them the courage to creat a User Account and to contribute...