Genesis Mutt
{{{Image/Tile}}}




Rarity
Legendary
Class
Nuke
Research Material
{{{Research Material}}}
Building Material
{{{Building Material}}}
Speed
{{{Speed}}}
Element Rating
{{{Element Rating}}}
Description
High survival skills


</noinclude>
Acquisition
You can obtain this monster through the following means:
Create a Genesis Mutt by transforming a Max level (Level 40) Alpha Mutt

Requires using x3  monsters (Silver Monsters or Blobs, or a mix of both) and 800 Dark Matter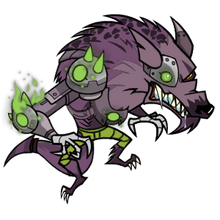 Abilities
Dark Heavy Claw II
Hacks in a line and heals 40% MAX HP
Dark Bleed II
Slashes 140% damage + inflicts 30% MAX BUILDING HP over 3 turns (reusable in 2 turns).
Dark Throw Me A Bone! II
Feasts on a lucky bone to gain 90% MAX HP + 70% speed buff for 2 turns (reusable in 5 turns).
H
Ad blocker interference detected!
Wikia is a free-to-use site that makes money from advertising. We have a modified experience for viewers using ad blockers

Wikia is not accessible if you've made further modifications. Remove the custom ad blocker rule(s) and the page will load as expected.