Event Is now Over!
Faction Missions
This Event had 11 Faction Missions. Each time your Faction completed a Mission, another one would activate.
Name
Target
Reward
Operation Bird Watcher
2,000 
24  to all Active Agents
Operation Blow Back
2,000
Power Shard
Operation Chicken Feed
1,000
Operation Bird Watcher
2,000 
24 to all Active Agents
Operation Camp Z (Epic Mission)
4,000 
Secret Agent Z avatar to 1 Agent
Opreation Camp X (Epic Mission)
4,000
Secret Agent X avatar to 1 agent
Operation Sanitize
1,000
Wining Avatars
Each time your Faction completed an Epic Faction Mission, the game would award an Event Avatar to one of the Faction's members that had been active during that mission.
ATA did not release any information as to how that Agent was selected, so it is unknown if the Agent was selected at random with all active participants having an equal chance at the award, or if players got a higher chance at being selected depending on how many attacks they made in comparison to their fellow Faction members
Winning Monsters
The contributors of this Wiki have not had any contact with a player that has won a Monster during this event. It is unknown if any players won Monsters as advertised.
Bundles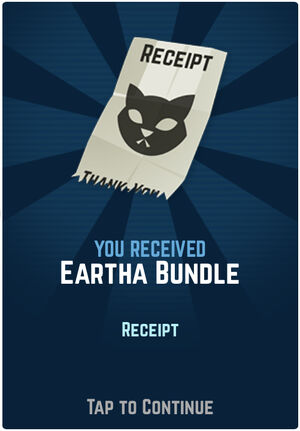 While this Event was active, players could purchase Eartha's Bundle, which included...
Ad blocker interference detected!
Wikia is a free-to-use site that makes money from advertising. We have a modified experience for viewers using ad blockers

Wikia is not accessible if you've made further modifications. Remove the custom ad blocker rule(s) and the page will load as expected.