Daily Events are a great way to earn a daily rewards while just playing the game, there are 6 different events that rotate, Gold, City, Experiments, Alpha, Creation & Feed/Transform, in that order! Each Daily comes with an avatar for coming first the day of each event, so a lot of players aim to attain all 6 in the duration of their gameplay, all information can be found in the rewards section in game, but all events come with a standard 1 - 3 tiers, with rewards increased depending on where you land, and additional rewards for those that come in the top 10.
Some Events will require using

BUT Most can be done by preparing, sometimes a week, and some players even push for 4-6 Months.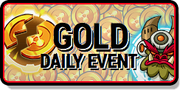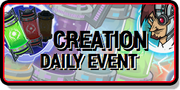 ---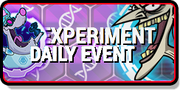 ---
Building
Experiments
Alpha
Rolling
creating
Ad blocker interference detected!
Wikia is a free-to-use site that makes money from advertising. We have a modified experience for viewers using ad blockers

Wikia is not accessible if you've made further modifications. Remove the custom ad blocker rule(s) and the page will load as expected.