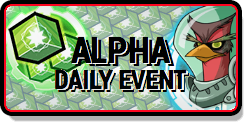 Alpha Event is the last in the daily event rotation, this event is based on alpha attained on the day, be it via rewards, or via battles!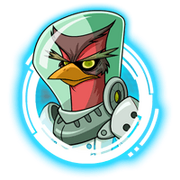 Winning the event!
The Average score needed is 25,000 Alpha collected, but the tally has been known to clock up to 70,000, but this very rare!
Element Ex

will be needed as you will need to buy energy

to quickly hit missions for the 450

Mission Contribution for the maximum faction reward, and if your lucky you may win the jackpot
Sadly this isn't a grind it out event, and can be won by collecting all alpa rewards from last week.
Legendary Mission Rewards: 1,200
Legendary Mission Jackpot: 1,700
Epic Missions Rewards: 450
Epic Mission Jackpot: 450
Daily Rewards: 400
Event Item rolling: Depends on the event!
As a preparation leading up to the event, hit all alpha faction missions, and gain max tier in the daily events, that offer alpha as a reward.
Then Come the day, Collect Your Rewards & Grind it out, attack and keep attacking.
Alpha rewarded from attacks are given a base value, based around on the energy cost, capped to a maximum of 8

An active faction charm increases up to a maximum of 150%
Monsters are chosen to grant bonus alpha drops, 50% Per Bonus monster, stacked up to 150%, the three chosen monsters can be found of the events button of the home screen.
Reaching Tier 3 Rewards
Reaching Tier 3, can be easy or it can be hard, ever notice how all these players net 10/12k

before the first hour is up, they collect their alpha rewards from the week, save a few rewards from the week, that amount to more than 1,100

, and you have done your daily event!
You are able to attack for the 1,100

, maybe get lucky and get an alpha faction mission, but its defiantly going to take longer to get, and will require the use of

!
Ad blocker interference detected!
Wikia is a free-to-use site that makes money from advertising. We have a modified experience for viewers using ad blockers

Wikia is not accessible if you've made further modifications. Remove the custom ad blocker rule(s) and the page will load as expected.